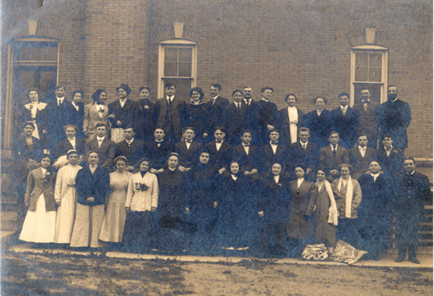 Elizabethtown College was gifted a $100,000 donation in 2021 to establish a scholarship by the estate of Rear Admiral Philip O. Geib. The Amos Philip and Ada Mae (Oldham) Geib Endowed Scholarship will be set up in honor of Geib's parents, Amos Philip Geib and Ada Mae Oldham Geib who attended Etown. Amos, one of the earliest graduates of the College, earned his degree in 1909. 
Philip J. Geib, the grandson of Amos and Ada, and son of Rear Admiral Geib who passed away on Oct. 11, 2020, established the scholarship on behalf of his father's estate. 
"I am pleased to be able to convey this gift of my father, and I hope it will benefit someone who otherwise would not be able to attend Elizabethtown College," Geib said. "That was certainly my father's intent as well." 
Though Rear Admiral Geib did not attend Etown, his son Phillip said he spoke very highly of the College over the years and wanted to leave this gift in memory of his parents. Amos and Ada met during their time as students at Etown and Amos served as Class President in 1909. The two passed down their love for their Alma Mater to both their son and grandson. 
The Amos Philip and Ada Mae (Oldham) Geib Endowed Scholarship, which will be awarded annually beginning in the fall of 2022, will benefit full-time Elizabethtown College students who display satisfactory academic progress and demonstrate financial need.